Every year, 1.5+ million students appear for NEET exam, only 10% of them qualify for admission. The mock-set-plus receives only a few users, we decided to investigate who among mock-set-plus users qualified NEET 2019, and their study pattern.
One of our popular products is chapterwise mock exam and this blog is about understanding how a NEET qualifier had been using the chapterwise mock exams.
When we started the chapterwise mock exams two years back,  it did not get the attention that it deserved. It worked like a regular question paper segregated by chapter. The mock-set-plus now has a performance analysis dashboard and this seems to go well with chapterwise mock exams.
Performance bits in chapterwise sessions
The picture below shows chapterwise performance of one of the recent NEET-qualified mock-set-plus user. For an exam like NEET speed may not be a major factor,  not so with Bank exams. When it comes to chapterwise performance,  following are to be noted:
Every chapter is not equally significant. The weightage varies and often proportional to the content of the chapter. There may be a chapter with 100 questions, and another one with just 10 questions. The performance graph below surely cannot give a right interpretation of comparative performance, but key focus areas.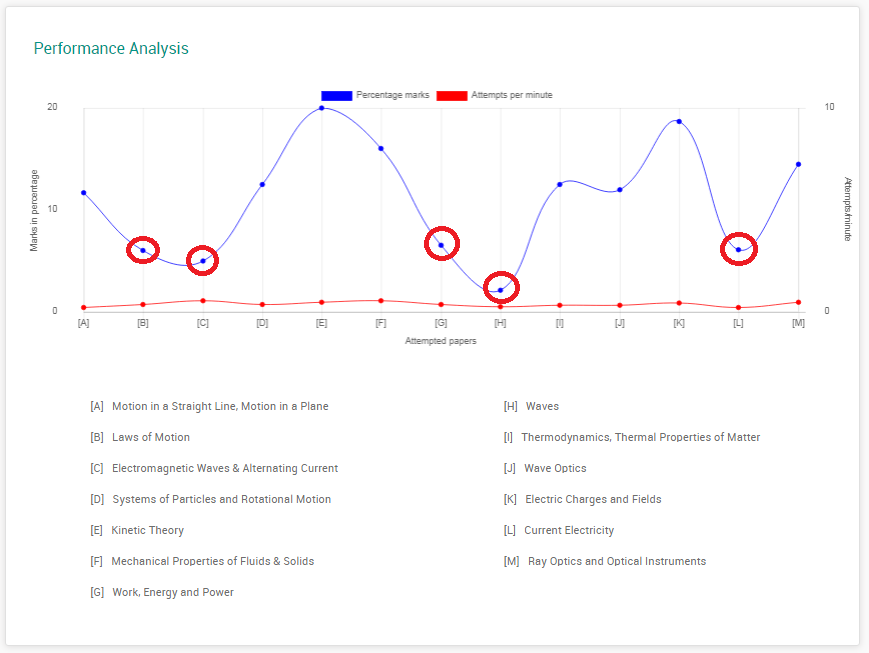 If you can refer to the above chart, the points (or chapters highlighted) are those needing extra focus, probably they contributed to the low net score.
PRACTICE NEET CHAPTERWISE MOCK TESTS
Average performance or net score (you can find the value in the dashboard) may not be an indicator of how you eventually prepared for the exam. In-fact, a low net score can be a reminder of the topics that you should focus on.

One of the important observations  is about consistency of practice. From our past data, those who qualified NEET have attempted 60% to 70% mock-set-plus chapterwise.

Questionbang is now offering JEE chapterwise as well and hope you will find it useful.
You can find chapterwise NEET, JEE and Bank exams from the following links:
Bank Exam Chapterwise Mock Exams,
One-One for NEET 2020 :  Exclusive online coach.
Best practices
Make sure to revise chapters before attempting mock exams.
Chapterwise video lessons are ideal for quick revision.
It is important to review results post exam. Bookmark any wrongly attempted questions, you can have a collection of important Q/A in Fav+ section.
Attempt mock exams on every chapter at least once.
Review your collection in Fav+ section regularly.
We value your feedback and welcome any comments to help us serve you better.