One of the drawbacks of the Play Store version of the Questionbang app has been the lack of support for older devices. The app has been missing out on legacy Android devices, esp., Lollipop and Marshmallow. We now have released a web version of the Questionbang app to be used by anyone, anywhere, on any device!
Questionbang web app (Mobile)
The app is available through the Questionbang portal when you access using your mobile. The mobile web app carries forward all the features of the native version (or Google Play version), maybe a few versions ahead of the one on Google Play.
The Questionbang web app (mobile) will henceforth replace the mock-set-plus mobile, but the mock-set-plus will continue to be available for desktop users.
Here is how you can access the Questionbang web app (mobile):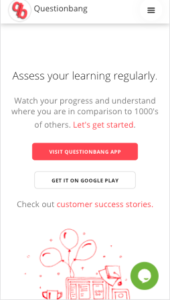 Visit www.questionbang.com using your mobile browsers – Chrome or Firefox on Android, Safari (latest) on iPhone,
Tap on the "Visit Questionbang App" button.  You will find many of these links on the Questionbang portal (mobile).
Note that you need to have private mode turned off on the browsers to run the app.
Progressive Web Apps (PWA)
The Questionbang web app (mobile) is not yet a progressive web app (PWA ~ https://web.dev/progressive-web-apps/), but it is closer to becoming one!
Questionbang would still recommend the Google Play version of the app when a device is using Android version 7.0 or up.
Here are some useful links to know more about the Questionbang App:
Important note – Questionbang web app (mobile) is available only through mobile browsers.
We value your feedback and welcome any comments to help us serve you better.
Happy learning!