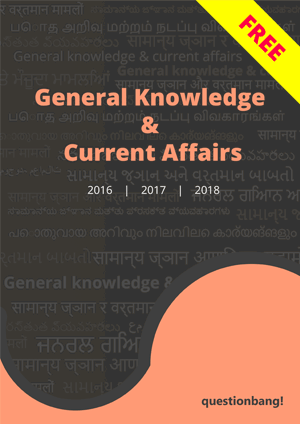 General Knowledge
& Current Affairs ~ E-Book
General knowledge and current affairs is a collection of weekly GK & CA since June, 2016. These have been featured weekly through Bank Preparatory and Exam 360.
Format: PDF

Language: English

# Pages: 1262

File Size: 51.2 MB
This book can be an ideal reference for students preparing for any competitive or recruitment exams (esp., those conducted by UPSC and other central or state recruitment boards ~ Civil Service exams, SSC, Railway Recruitment exams, Bank exams to name a few).
We value your feedback and welcome any suggestions to help us improve this E-Book. Write to us!
Do you want to test your general knowledge? The mock-set-plus offers GK & CA mock exams. These mock exams can assess your depth of knowledge in various topics. It is a must if you are preparing for SSC/Railway or any UPSC exams. It's free.
General Knowledge and Current Affairs - Wildlife
Ecosystems, Deserts, Forests, Rain Forests, Plains, Grasslands, Endangered Species, Ex Situ Conservation, In Situ Conservation, Wildcrafting, Wildlife Corridor, Wildness, Herbivorous Animals, Hippopotamus Bengal And Indochinese Tigers, Asiatic Lions, Indian And Indochinese Leopards, Snow Leopards, Clouded Leopards, Various Species Of Deer, Including Chital, Hangul, Barasingha; The Indian Elephant, National Parks, Mammalian, Fauna, Flora, Fungi, Conservation