GK & CA
Collection of weekly GK & CA since year 2016.
March, 2019
4108
Dhanush Howitzers Inducted Into Indian Army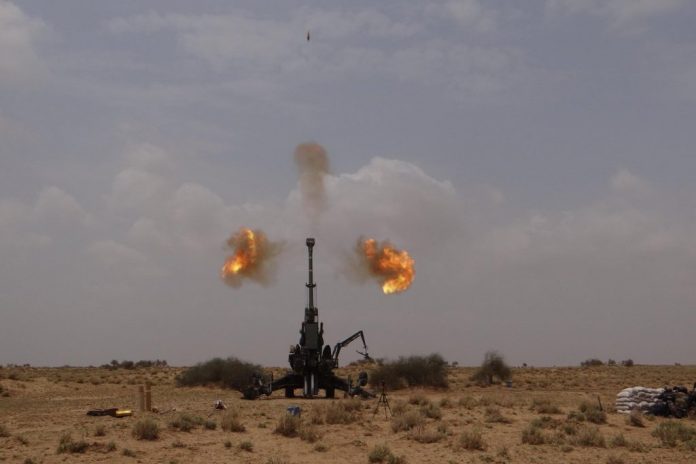 Four indigenous Dhanush Howitzer guns were inducted to the Indian Army. The induction of Dhanush Howitzer guns gives major fire-power boost to the to the Indian Armed Forces.
Sat, 30 Mar, 2019
---
4107
World's highest polling station
Tashigang, a small Himachal Pradesh village has got the distinction of the highest polling station in the world. Tashigang is located at an altitude of 15,256 feet.
Sat, 30 Mar, 2019
---
4106
Wipro and IIT-Kharagpur partner for Advanced Research
IT services major Wipro has announced a partnership with IIT Kharagpur to undertake industry-focused applied research in the areas of 5G and artificial intelligence(AI). The research will focus on AI research applicable in the healthcare, education and retail sectors as well as in domains such as climate change and cybersecurity.
Sat, 30 Mar, 2019
---
4105
A museum with a heart and history
After nearly a decade of planning and construction, the National Museum of Qatar (NMoQ) situated in Doha's corniche, which tells the story of Qatar and its people from earliest times.
Thu, 28 Mar, 2019
---
4104
Mission Shakti
Prime Minister Narendra Modi announced that India has successfully test-fired an anti-satellite (A-SAT) missile by shooting down a live satellite. The project named as Mission Shakti was led by the Defence Research and Development Organisation (DRDO) was aimed at strengthening India's overall security.
Thu, 28 Mar, 2019
---
4103
107th Bihar Diwas
Bihar Diwas was celebrated on March 22nd across the state to commemorate the day when Bihar was carved out of the Bengal Presidency in the year 1912. March 22nd 2019 was the 107th foundation day of the state.
Tue, 26 Mar, 2019
---
4102
World Meteorological Day 2019
March 23 with the theme "The Sun, the Earth and the weather". The theme recognises the critical role the Earth's nearest star plays in what transpires on the planet. The energy from the Sun is taken up by all life forms to perform their biological functions.
Tue, 26 Mar, 2019
---
4101
World Tuberculosis Day 2019
World Tuberculosis Day 2019 was observed on March 24th with the theme "It's time". World Tuberculosis Day is celebrated to raise awareness about the devastating consequences of TB and how to end the global epidemic of this lung disease.
Tue, 26 Mar, 2019
---
4100
New Subjects added to CBSE curriculum
The Central Board of Secondary Education (CBSE) has announced the introduction of Artificial Intelligence (AI), Early Childhood Care Education (ECCE), and Yoga as skill subjects in the school curriculum for academic session 2019-20.
Tue, 26 Mar, 2019
---
4099
Templeton Prize
Templeton Prize awarded by the U.S.-based John Templeton Foundation honours a living person who has made an exceptional contribution to affirming life's spiritual dimension whether through insight, discovery, or practical works. Brazilian physicist &astronomer; Marcelo Gleiser
Tue, 26 Mar, 2019
---
4096
Johann Christian Bach
Johann Sebastian Bach was a German composer and musician of the Baroque period. He is known for instrumental compositions such as the Art of Fugue, the Brandenburg Concertos, and the Goldberg Variations as well as for vocal music such as the St Matthew Passion and the Mass in B minor.
Sat, 23 Mar, 2019
---
4095
Day for the Elimination of Racial Discrimination
The International Day for the Elimination of Racial Discrimination 2019 was observed on March 21st with the theme Mitigating and countering rising nationalist populism and extreme supremacist ideologies. Racist extremist movements which promote populist, nationalist agendas are spreading in various parts of the world.
Sat, 23 Mar, 2019
---
4094
SpiceJet joins IATA
Low-cost airlines SpiceJet has joined the International Air Transport Association. SpiceJet is the first Indian budget carrier to join the IATA, over 290 airlines as members.Membership of IATA will allow SpiceJet to explore &grow; its collaborations with international member airlines of IATA.
Sat, 23 Mar, 2019
---
4093
Important days of this week
March 21
International Day of Forests theme 'Forests & Education'. World Down Syndrome Day. The theme of the 2019 World Down Syndrome Day is "Leave no one behind". World Poetry Day United Nations Educational, Scientific and Cultural Organization (UNESCO).
March 22: World Water Day theme 'Leaving no one behind'.
Sat, 23 Mar, 2019
---
4092
Uttar Pradesh Begins Otter Census
1st time, Uttar Pradesh is taking a census of otters in its protected areas. The census has begun in the Pilibhit Tiger Reserve (PTR). Otters live on fish and spend much of its time in or close to water bodies. A thriving population of otters means a healthy ecosystem. A growing or healthy population of otters means the water bodies are pollution-free.
Wed, 20 Mar, 2019
---
4091
India's first anti-corruption ombudsman
Former Supreme Court judge and current member of the National Human Rights Commission (NHRC), Pinaki Chandra Ghose has been named as the India's first Lokpal (anti-corruption ombudsman). The Lokpal Act, which was passed in 2013 after a nationwide anti-corruption movement, provides for setting up of Lokpal at the centre and Lokayuktas in the States
Wed, 20 Mar, 2019
---
4090
India's 1st TIR shipment via Chabahar Port from Afghanistan
The first shipment under the United Nations 'Transports Internationaux Routiers' (TIR) convention arrived in India from Afghanistan through Chabahar Port of Iran. The Transports Internationaux Routiers is an international Convention aimed at harmonising the administrative formalities of international road transport.
Mon, 18 Mar, 2019
---
4089
Indigenous Man Portable Anti-Tank Guided Missile
Defence Research and Development Organisation (DRDO) has successfully test-fired indigenously designed and developed Man Portable Anti-Tank Guided Missile (MPATGM) in the deserts of Pokhran in Rajasthan.
Mon, 18 Mar, 2019
---
4088
15 March: World Consumer Rights Day 2019
The theme of the World Consumer Rights Day 2019 is "Trusted Smart Products". The theme aims to highlight what consumers want and need from a connected world and how important it is to put them at the heart of the development of these digital products and services.
Mon, 18 Mar, 2019
---
4087
GI tag for Coffee Varieties
The Geographical Indications Registry has approved the Geographical Indication (GI) tag for coffee varieties viz. Coorg Arabica Coffee, Wayanad Robusta Coffee, Chikmagalur Arabica Coffee, Araku Valley Arabica Coffee and Bababudangiri Arabica Coffee.
Mon, 18 Mar, 2019
---
4084
'black hole' coin in honour of Stephen Hawking
50 pence coin inspired by the late legendary British physicist Stephen Hawking's seminal work on black holes. Hawking, one of the world's best-known theoretical physicists who died aged 76 last year.
Thu, 14 Mar, 2019
---
4083
March 14: World Kidney Day 2019
The theme of the World Kidney Day 2019 is Kidney Health for Everyone Everywhere. The theme emphasizes universal health coverage (UHC) for prevention and early treatment of kidney disease.
Thu, 14 Mar, 2019
---
4082
India's newest frog evolved 60 million years ago
The starry dwarf frog, named after Wayanad's Kurichiya tribe, is found outside protected areas. It is just 2 cm long &sports; pale blue spots &brilliant; orange thighs. The discovery of the starry dwarf frog, a nocturnal amphibian that lives under leaf litter on a mountaintop in Kerala
Wed, 13 Mar, 2019
---
4081
World Wide Web turns 30
The World Wide Web, commonly known as the Web, is an information space where documents and other web resources are identified by Uniform Resource Locators, which may be interlinked by hypertext, and are accessible via the Internet.
Tue, 12 Mar, 2019
---
4080
NASA orbiter spots water molecules moving around on Moon
Scientists, using NASA's Lunar Reconnaissance Orbiter (LRO), have observed water molecules moving around the dayside of the moon, the U.S. space agency said, an advance that could help us learn about accessibility of water that can be used by humans in future lunar missions.
Tue, 12 Mar, 2019
---
4079
Wood snake, last seen in 1878, rediscovered by scientists
A species of wood snake that wasn't seen for 140 years has resurfaced in a survey conducted by scientists in the Meghamalai Wildlife Sanctuary. The species, endemic to the Meghamalai forests and the Periyar Tiger Reserve landscape, was recently rediscovered by R. Chaitanya, a herpetologist.
Tue, 12 Mar, 2019
---
4078
India is world's second largest arms importer
India was the world's second largest arms importer from 2014-18, ceding the long-held tag as largest importer to Saudi Arabia, which accounted for 12% of the total imports during the period.
Tue, 12 Mar, 2019
---
4077
Marayur Jaggery gets Geographical Indication Tag
The Marayur Jaggery largely produced in the regions of Marayur and Kanthallur grama panchayats of Kerala has got the GI tag. Geographical Indication (GI) is a name or sign used on products which correspond to a specific geographical location or origin.
Mon, 11 Mar, 2019
---
4076
Dr. Zhores Alferov
Alferov received the Nobel Prize in Physics together with US scientists Jack Kilby and Herbert Kroemer, for developing semiconductor heterostructures used in high-speed-and optoelectronics. He was the first Russian to win a Nobel Prize since Soviet leader Mikhail Gorbachev won the peace prize in 1990.
Mon, 11 Mar, 2019
---
4075
First all-female spacewalk
The US space agency NASA has recently announced that it will carry out first all-female spacewalk at the International Space Station (ISS) on 29th March 2019. Astronauts - Christina Koch and Anne McClain -will walk outside the ISS on a mission to replace batteries installed last summer.
Mon, 11 Mar, 2019
---
4072
First-ever Bhagwan Mahavir Ahimsa Puraskar
Indian Air Force Wing Commander Abhinandan Varthaman will be honoured with the first-ever 'Bhagwan Mahavir Ahimsa Puraskar', which is instituted by the Akhil Bharatiya Digambar Jain Mahasamiti. He shot down a Pakistani Air Force F-16 before he was forced to eject and landed across the Line of Control (LoC).
Sat, 09 Mar, 2019
---
4071
Pritzker Prize: Arata Isozaki 2019
Pritzker Prize is an annual award to honour a living architect or architects whose built work demonstrates a combination of those qualities of talent, vision & commitment, which has produced consistent and significant contributions to humanity & the built environment through the art of architeture.
Sat, 09 Mar, 2019
---
4070
First Atal Behari Vajpayee LTA
Thanga Darlong, the 99-year old tribal musician and music guru, has been conferred the 1st Atal Behari Vajpayee Life Time Award for preserving the the musical form during the 37th Agartala Book Fair in Tripura. Darlong is the last tribal musician to play Rosem a bamboo made a flute.
Sat, 09 Mar, 2019
---
4069
International Women's Day 2019 (March 8)
The theme of the International Women's Day 2019 is "Think equal, build smart, innovate for change". The theme focuses on innovative ways in which we we can advance gender equality and the empowerment of women, particularly in the areas of social protection systems, access to public services and sustainable infrastructure.
Sat, 09 Mar, 2019
---
4068
Olga Ladyzhenskaya
Olga Aleksandrovna Ladyzhenskaya was a Russian mathematician. She was known for her work on partial differential equations and fluid dynamics. She provided the first rigorous proofs of the convergence of a finite difference method for the Navier–Stokes equations.
Thu, 07 Mar, 2019
---
4067
Prayagraj Kumbha Mela 2019: Guinness World Records
Largest traffic and crowd management plan. Biggest painting exercise of public sites under paint my city scheme. Biggest sanitation and waste disposal mechanism. Kumbh Mela, the festival of the sacred pitcher is the largest public gathering and collective act of faith, anywhere in the world.
Wed, 06 Mar, 2019
---
4066
March 3: World Wildlife Day 2019
To provide an opportunity to celebrate the beautiful and varied forms of wild fauna and flora. To raise awareness of the multitude of benefits that conservation provides to people. At the same time.
Wed, 06 Mar, 2019
---
4065
SpaceX Crew Dragon docks with International Space Station
The demonstration mission is named as Demo-1. It was a test mission before it can begin taking US astronauts into space. After the successful docking, the crew members of International Space Station opened the hatch of the space capsule and, for the first time, penetrated its interior in space.
Wed, 06 Mar, 2019
---
4064
Azaadi ke Diwane Museum Inaugurated at Red Fort
The Museum is built by the Archaeological Survey of India (ASI). The Museum pays homage to hundreds of freedom fighters who do not find mention in popular culture. The Museum has attempted to document these unsung hero's contributions to India's Freedom Struggle.
Wed, 06 Mar, 2019
---
4063
National Legal Services Authority (NALSA)
NALSA fulfils the provisions under the Article 39A of the constitution which provides for free legal aid to the poor and weaker sections of the society, to promote justice on the basis of equal opportunity.
Wed, 06 Mar, 2019
---
4060
First semi-identical twins identified in pregnancy
Young Brisbane twins, a boy and a girl, have been identified as only the second set of semi-identical, or sesquizygotic, twins in the world -- and the first to be identified by doctors during pregnancy.
Sat, 02 Mar, 2019
---
4059
National Book Trust
NBT is an Indian publishing house, founded in 1957 as an autonomous body under the Ministry of Education of the Government of India. NBT now functions under aegis of Ministry of Human Resource Development, Govt. of India India's first Prime Minister Pt.Govind Prasad Sharma chairman 2019.
Sat, 02 Mar, 2019
---
4058
Tata Steel: one of World's Most Ethical Companies
JAMSHEDPUR: Private steel major Tata Steel has been recognised as one of the World's Most Ethical Companies by the Ethisphere Institute, a global leader in defining and advancing the standards of ethical business practices, for 2019.
Sat, 02 Mar, 2019
---
4057
Transcatheter Aortic Valve Implantation (TAVI)
Tamil Nadu first State in the Country to introduce TAVI. The doctors performed Transcatheter Aortic Valve Implantation (TAVI), a minimally invasive surgical procedure that repairs the valve without removing the old, damaged valve on two senior citizens at the Tamil Nadu
Sat, 02 Mar, 2019
---
4056
Tejas Express flagged off
PM Narendra Modi on Friday flagged off the first Tejas Express to be operated by the Southern Railway. The train will ply between Chennai Egmore and Madurai.
Sat, 02 Mar, 2019
---
4055
IAF strikes Jaish-e-Mohammad terror camps in Pakistan
Indian fighter jets struck the biggest training camp of the Jaish-e-Mohammad inside Pakistan in a pre-dawn operation, killing over 300 terrorists. Involving 12 Mirage 2000 aircraft and supported by a fleet of Sukhoi 30 jets, a mid-air refueller & 2 airborne warning and control systems, targeted JeM's 5-star resort style camp on a hilltop in Balakot.
Fri, 01 Mar, 2019
---
4054
Global Digital Health Partnership
The Global Digital Health Partnership (GDHP) is a collaboration of governments and territories, government agencies and the World Health Organization aimed at supporting the effective implementation of digital health services.
Fri, 01 Mar, 2019
---
4053
First 7-Eleven store in India to launch in 2019
Future Retail secures deal with U.S.-based 7-Eleven Inc. to open convenience stores U.S.-based 7-Eleven Inc. expects to open its first branded store in India this year, after reaching a deal with Future Retail Ltd to run the chain in the Asian nation.
Fri, 01 Mar, 2019
---
4052
Two Quick Reaction Surface-to-Air Missiles
The missile test launch in Odhisha came on a day IAF air stikes destroyed a major JeM camp in Pakistan. Describing the launch as "fully successful", a DRDO official said all the mission objectives were met during the trial.
Fri, 01 Mar, 2019
---
4051
New Railway Zone for Andhra Pradesh
The Southern Coast Railway zone would comprise of existing Guntakal, Guntur and Vijayawada divisions that currently fall under the South Central Railway and the South Central Railway will then consist of the Hyderabad, Secunderabad and Nanded divisions.
Fri, 01 Mar, 2019
---